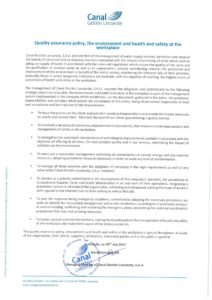 We acquire a quality commitment of service and protection of the environment with the purpose of guaranteeing the satisfaction of each and every one of our customers whatever their nature and the Lanzarote community in general.
Aware we have been entrusted with the water management, one of the main natural world resources and essential for life in general and the development of Lanzarote and La Graciosa, we place special enthusiasm in all of our procedures.
Therefore, within our commitments to the environment and sustainability, we stand out in the following:
We optimise the consumption of natural and energy/power resources as well as raw materials; adapting necessary preventive measures in order to avoid any kind of contamination.
We meet with the legal requirements, including the agreements and suggestions proposed by the Consortium of the Water of Lanzarote.
We promote the incorporation of the most advanced technologies in all of our procedures aiming to offer a better quality of product and services, as well as minimising the impact of our activities within the Lanzarote environment.
We maintain and encourage the trust of all of our subscribers guaranteeing always, a quality service.
We are committed to the efficient management of water, continuously monitoring so that the networks have the best use, minimising possible registered leaks.
These commitments listed within the Canal Gestión Lanzarote S.A.U. Quality Standards, Environment, Health and Safety are developed as part of a comprehensive management system based on the ISO 9001 and ISO 14001 regulations, which range covers the totality of the integral water cycle, that is, the management of the production and distribution services of potable water, sanitation, filtration and regeneration of sewage waters as well as distribution of reused water, commercialisation and quality control of waters: obtaining it's certification.